Nevly: Enhancing Financial Wellness
Our mission with Nevly, a fintech platform focusing on personal finance, was to help them establish a brand identity and a coherent marketing approach.
Nevly, a fintech platform focusing on personal finance, aimed to improve the financial wellness of underserved customers and bolster their household wealth. But their journey had its hurdles, mainly in the absence of a brand identity and a coherent marketing approach.
Fueled by their desire to use technology for meaningful change, Nevly turned to We Scale Startups to construct their groundwork from zero.
We Scale Startups took on the challenge of morphing Nevly into a game-changer. We initiated a holistic process, developing a wide-ranging strategy that considered all growth factors. This involved in-depth customer research, innovative website design, effective messaging and positioning, precise customer acquisition strategies, influencer partnerships, and a detailed analytics system.
Firstly, we dove deep into customer research to understand the needs, desires, and struggles of the financially underserved. This insight enabled us to shape a brand that genuinely resonated with our target audience. We crafted an intuitive website to make financial management more user-friendly.
Having fine-tuned Nevly's messaging and positioning, our focus shifted to customer acquisition. Through a mix of organic social media campaigns, paid strategies, and collaborations with influencers, we widened Nevly's reach, ensuring their voice reached those who needed it the most.
Recognising the importance of data-driven decision-making, we deployed robust analytics tools to equip Nevly with essential insights for refining their approach and sustaining growth.
The results of our partnership with Nevly were tangible. We Scale Startups navigated them through the tough process of securing Pre-Seed funding, which validated the strength of their new and improved branding. Nevly's refined positioning and marketing strategy elevated them as a frontrunner in personal finance for underserved customers.
Overall, we remain proud of the progress made towards Nevly's vision. The groundwork we established holds the promise to redefine the financial wellness of underserved individuals and families, showing the impact of technology in shaping a brighter future in personal finance.
"I am very impressed by Daniel's detailed insight when working with startups through Google Launchpad. He is an excellent digital marketing expert. I'd hire again."
What a guy! Daniel jumped in and gave me instant clarity on what I was doing right and what needed work when it came to my marketing automation. He was full of great tips and strategies and he clearly knows his stuff. Highly recommend a call with him!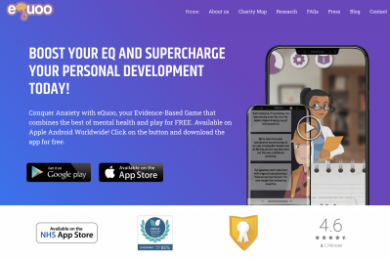 Discover how We Scale Startups worked with eQuoo to establish the brand, identify good execution channels and optimise customer acquisition.